Hotel Information
Los Angeles Marriott Burbank Airport Hotel
2500 Hollywood Way, Burbank, CA 91505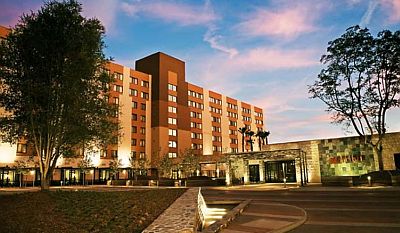 Free shuttle from Burbank Airport
This four-star Marriott is a great conference partner offering a renovated Conference Center with Exhibit Hall, updated hotel rooms, generous on-site parking and two restaurants on property - all in a truly walkable venue.
Important: Room Reservations can only be made after Registration
Special conference rates for the SCGS room block:
Standard Room: $175
Concierge Room: $194
Options are Single (1 King bed) or Double (2 Queen beds)

Although we have expanded the conference room block, we still may experience an early sell-out. Please reserve early.
In order to prevent rooms from being held by non-conference attendees, information on how to reserve at the Marriott will be provided after you have registered for the conference.
SCGS is helping to keep the Marriott room block open by only allowing registered conference attendees, speakers and exhibitors to reserve at our special rates. We will be instructing the Marriott to remove anyone not registered for our conference. Those reservations will still be valid but the rates will be at the Marriott's then-current room rate.
Stay and Play
SCGS special rates extend before and after the conferences, from Friday, May 24 through Sunday, June 9, 2019. Take in great food, beautiful beaches and world class museums, such as The Getty and LACMA. Or stay close to the hotel and visit Universal Studios Theme Park, the Warner Bros. Studio Tour, the Autry Museum of the American West, and the Forest Lawn Museum - all a brief Uber/Lyft ride away.
Why Not Treat Yourself and Upgrade to Concierge Level?
The Burbank Marriott's Concierge Level offers all-day access to the Concierge Lounge where you can find fuel to help you stay in top form all day long. The lounge serves hot breakfast daily until 9 am, hot and cold beverages and light munchies throughout the day, hors d'oeuvres between 5 pm and 7 pm, and a dessert bar from 7 pm to 9 pm. When availalbe, the Concierge Level will offer Jamboree attendees both larger rooms than those in the hotel's West Tower and the convenience of closer proximity to the Conference Center. Rooms are available with one king or two double beds, and some connecting rooms are available for those with larger parties, or those who like to party with others. Included with all Concierge Level rooms is access to a private business center and turn down service, if desired. Although Jamboree gains no advantage if you book a concierge room, we recommend these as a "good buy" both in terms of offsetting food expenses, location, general amenities, and convenience.
Roommate Connection
Jamboree offers a roommate matching service for those who wish to reduce lodging expenses. If you are interested in such an arrangement, please send an email to roommate@scgsgenealogy.com. Please include your name, phone number, dates of attendance, and tell us a little about yourself (gender, late/early riser, party girl or robe-and-slippers type or if you suffer from allergies).
Internet Options
Internet access in your room may be charged to your room bill. Please see the Marriott's website and the Marriott Rewards program for current benefits which may include free in-room interenet. WiFi is available throughout the common areas of the hotel and the meeting rooms; however, the Marriott cannot guarantee a fast connection.
Conference Room Temperatures
The meeting room temperature can vary from room to room and from hour to hour. The Marriott staff is very diligent in trying to keep the temperatures comfortable, but it is all but impossible to maintain consistent temperatures. We strongly suggest that you dress in layers and bring a sweater in case you happen to find yourself in a cooler room.
Disability Access
All conference rooms are disability-accessible and are located on one floor. Every classroom has volunteer room monitors who can help our disabled guests find approprate seating or space.
The hotel has a limited number of parking slots for disabled in front of the Conference Center. There will have additional spots (directly to the north of the Convention Center) reserved for speical needs.

Please Note: The Marriott is a smoke-free facility. No smoking is allowed within the Conference Center or the hotel facilities.